College Students & Mental Health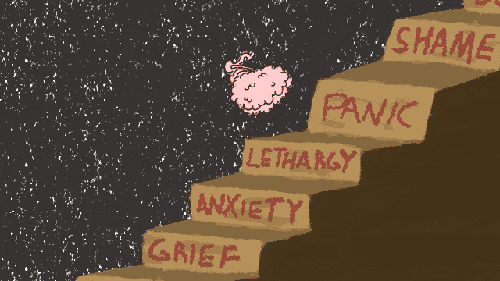 According to the Spring 2019 National College Health Assessment, released by the American College Health Association, in the past 12 months, 87.4% of students reported feeling overwhelmed while 84.7% of students have felt exhausted. The most alarming findings are that in the last 12 months, 55% of students have felt hopeless, 13.3% of students have considered suicide, and 2% have attempted suicide. According to their 2018 assessment, only 10-15% of students have sought out help through their university's counseling center. It's hard seeking help, but if your mental health has taken a toll on your wellbeing, it's crucial to find help.
After speaking to several college students about mental health, I reached out to Dr. Jerome Wilczynski, Director of the Counseling Center at Roosevelt University, to help clarify some questions students may have.
As a student enrolled at Roosevelt University, you are eligible to receive free counseling services at Roosevelt University's Counseling Center. The center is made up of a diverse group of psychologists, counselors, and doctoral-level trainees that are eager to help. The Counseling Center is located in AUD 470 at the Chicago Campus and at the Schaumburg Campus it is in room 114 at 1400 N. Roosevelt Blvd in Schaumburg, Illinois. The hours at both campuses vary daily. They have appointment-based availability for individual, couples and group counseling, as well as some walk-in, no appointment necessary consultation times. Please scroll to the bottom to see exact hours.
What is the difference between a psychologist and a psychiatrist?
A psychiatrist is a physician (someone with an MD or DO degree) that specializes in the diagnosis and treatment of mental health disorders, primarily through prescribing medications. A psychologist is someone with a doctoral degree (a PhD or PsyD) in clinical psychology or counseling psychology that has been trained in the diagnosis and treatment of mental health disorders through formal assessment procedures such as conducting psychological testing, as well as treatment through psychotherapy.
What is the difference between a therapist and a counselor?
Counselors are those with a master's degree in psychology or counseling that have been trained to assess and treat mental health disorders. The term "therapist" is more generic, as it can apply to any of these types of mental health clinicians, i.e., psychiatrists, psychologists or counselors (including doctoral or master's level trainees).
Talking to someone is a little nerve-wracking, what kind of things should one talk about?
It is rather common to be scared or apprehensive the first time one meets with a mental health therapist. But therapists are trained to deal with the wide range of human issues and problems. Therapists are trained to provide an atmosphere of acceptance and non-judgment. Therefore, people find that after the first few moments of working with a therapist, they tend to realize there was nothing to be afraid of regarding coming to talk to them. The best advice about what to talk about is to be open and honest about whatever is bothering you or whatever you want help dealing with in your life situation. It really is that simple.
How does one start a conversation with a professional?
Make an appointment and come meet with them. The therapist will ask you why you are there to see them and you'll be able to relay whatever you're concerned about. You don't have to worry about what to say or how to say it. Simply tell them why you're there and things will flow from that point forward.
What can students who are too uncomfortable to seek help do on their own?
That is more difficult to give a specific answer for, as the answer depends on what type of issue a person is wanting help about. But a very general answer would be to make sure you are keeping a balanced lifestyle: Get enough sleep each night, eat a balanced diet, try to stay active in terms of getting regular exercise, and manage your time well so you have ample time for studying, as well as reward yourself with relaxation and recreational activities once you've gotten all your studying or work done. When you do engage in recreational activities, make sure you don't overdo partying – that is, if you're of legal drinking age, don't drink to excess, etc.
Is it normal to feel uncomfortable?
Yes, it is. But as stated above, that anxiety usually dissipates rather quickly as soon as you start talking with a therapist.
What should students expect to get out of therapy?
Therapy is designed to deal with the full gamut of life issues: Lack of motivation, romantic relationship issues, worrying/nervousness, feeling "blah" or "blue," needing to process issues related to family, roommates and/or friends, etc. Therapy also can help a person stop all sorts of behaviors that impinge on life in a negative way such as hurting oneself physically as a coping strategy to alleviate stress, decreasing or eliminating suicidal thoughts, or overcoming addictions or issues with eating. The list is very wide regarding what one both can come to see a therapist about, as well as expect to get help with. One does not need to have a specific mental health disorder to see a therapist for help coping with any life problem or issue.
What are some tips you have for students when they start feeling overwhelmed?
Make sure you stick to a healthy lifestyle as outlined above. But even when you do that, feeling overwhelmed is a normal response when our task list continues to grow. In addition to not taking on more than you can reasonably expect to achieve, the first step is scheduling your time well so you can do everything you need to get done. Focus on only the task at hand during the part of the day set aside for that purpose. Then, move on to the next task and the next. Do this every day. By making time every day for various tasks, you'll eventually get them all done. Make sure you set aside enough time over the weeks leading up to when something is due. That way, you can work on the tasks slowly and get them done over a period of time instead of trying to do them overnight or in one-sitting, as that will just add to your feelings of being overwhelmed. If the above strategy isn't working for you, or even if you are getting everything done but you are still feeling overwhelmed, seek assistance from a therapist; they will work with you to see what is going on and to help you begin to deal with the issues that are causing you to feel this way.
---
At the Chicago Campus, the Roosevelt University Counseling Center hours are: Monday, 9 am to 8 pm; Tuesday, 9 am to 7 pm; Wednesday, 9 am to 7 pm; Thursday, 9 am to 8 pm; Friday, 9 am to 5 pm; and Saturday, 9 am to 3 pm. Monday through Thursday we have walk-in, no appointment necessary consultation time from 3:30 to 4:30 pm. After 5 pm, your therapist will see you for pre-arranged appointments only. To schedule an appointment, call 312-341-3548. The Roosevelt University Counseling Center cannot accommodate emergency situations after 5 pm during the week or at any point on the weekends. For such "after-hours" emergencies, contact campus security, Residence Life Staff, or 911.
At the Schaumburg Campus, the Roosevelt University Counseling Center has in-person appointment hours on Thursdays from 10:30 am to 8 pm. On other weekdays, the center schedules online "Skype-like" appointments (call 312-341-3548 to schedule either in-person or online sessions). On Thursdays, we have walk-in, no appointment necessary consultation time from 1 to 3 pm. This is the only time we can take emergency appointments. If an emergency arises outside this time during the week or on the weekend, contact campus security or 911.